Brent and Jodi/ Anchorage

The Acheson Family/ Washington

Stav and Oded/ Israel

Jens and Eve/ Switzerland

Jill and Lee / Michigan

Cliff and Dawn/Australia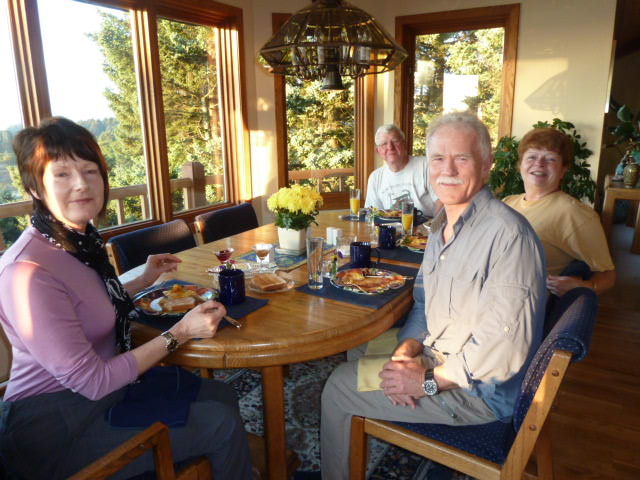 Dawn and Greg/New Zealand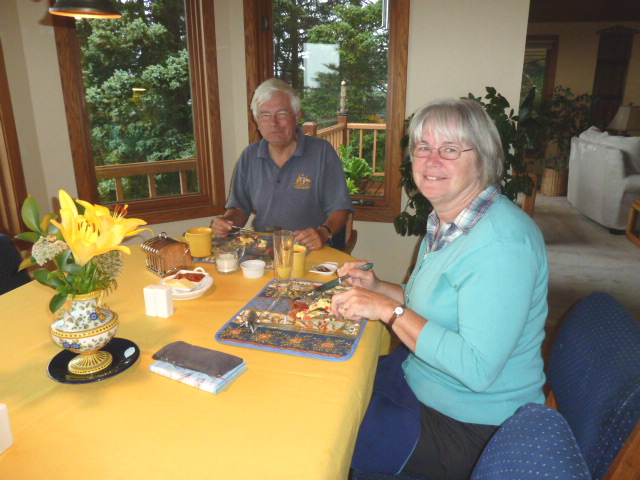 David and Heather/U.K.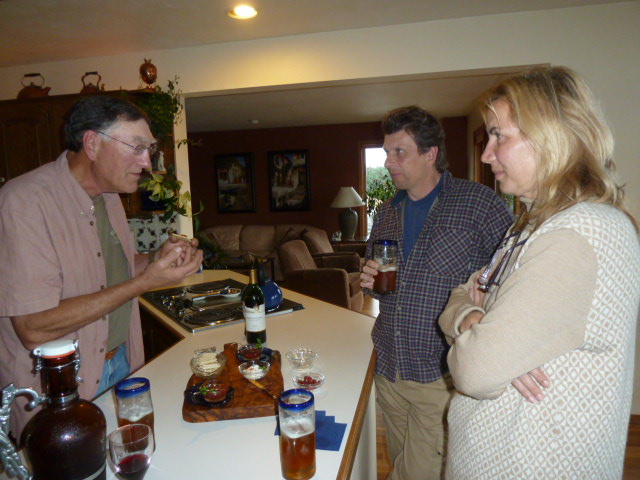 Werner and Doris/Austria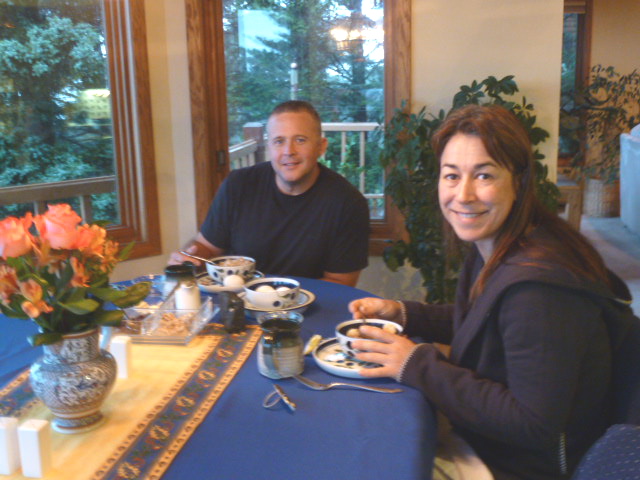 Jeff and Connie/California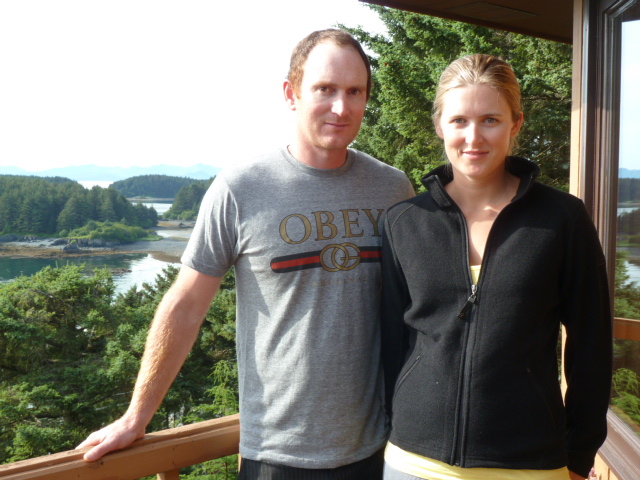 Daniel and Magnolia/New Zealand

James and Sarah / Sydney
GUEST COMMENTS
BUSINESS / LEISURE/ ADVENTURE TRAVELERS
:
As long term world wide B&B "residents" we have found A Channel View to be as fine as they come. Magnificent location, views, accommodation and food together with quite exceptionally kind and thoughtful hosts. Without a doubt, this would be been a far lesser experience without the generous and informative input of Mary and Ron: They enriched out 6 night stay far beyond the call of duty, thoughtfully providing insights in general and going to great lengths to help with our specific interest in birds and their photography. A most enthusiastically and highly recommended , world class, B&B. Thank you so much, Mary and Ron,, for your very high standards and your deeply appreciated interest and kindness.

Cliff and Dawn ~ Queensland, Australia


One of the best B&B's we have stayed in. Your backgrounds truly make this gem unique. A great way to learn about Kodiak and its history, get an insiders guide to things to do, and see amazing views. Of course, the breakfast was topnotch as well. Thank you both for your warmth and hospitality. You truly made this weekend special and one to be remembered for years to come.
Steve and Tammy ~ Anchorage, AK
Thank you so much for your hospitality. Your generosity did not go unnoticed. Your place is absolutely amazing and the view was spectacular, much like the breakfast and all your great stories. We cannot thank you enough for the tip about the whales. That was an experience we will never forget.
Jill and Jason ~ Yuma, AZ.
Our stay here in Kodiak has been a great experience with bears, eagles, fresh air, whales, wild flowers, also excellent salmon and exchange of stories, luxurious apartment, but most of all, your hospitality. THANK YOU, your care for your guests seems without limits. Lise and Hans Henrick - Denmark, Copenhagen
We've thoroughly enjoyed our stay here in such a comfortable suite. Gorgeous view from the window and deck and excellent breakfasts! Thank you both so much for the very warm welcome and hospitality and enjoyed exchanging stores about our commonly loved "scotch."
Carole and Alan Scott ~ Edinburg, Scotland
We are so fortunate to have been able to stay at your B&B. You are outstanding, gracious and welcoming hosts who made our trip so memorable and enjoyable. We thoroughly enjoyed hearing your rich family history and seeing all the amazing memorabilia around the house. We could not have asked for a more beautiful setting (view, wow!) or more welcoming hosts.
Christian and Amanda LA/Portland, OR.
When we first arrived here we wondered what it was that made this place so special. We didn't wonder for long. It is all the extra things the two of you do to make it such an amazing place. We cannot thank you enough for our stay here on your beautiful island and for making us feel so welcome in your home. What the two of you do here is really something special. That is a reason to come back! Thank you.
Magnolia and Daniel-New Zealand
Thank you for our wonderful stay and your support to our filming project. Your house is beautiful and your breakfast unbeatable! We are traveling a lot, but we seldom meet such friendly and kindly people like Mary and Ron. Thank you for your warm welcome!
Werner and Doris-Austria
Simply the best! Home away from home like no other--spacious room, comfortable bed, delicious breakfasts, stunning water views....and above all, friendly, helpful, gracious hosts. Three days definitely not long enough.
Dawn and Greg--New Zealand

A wonderful place to stay and excellent hosts. We loved our short stay in this beautiful part of the world.
Bob and Elaine--Australia.

Our stay has been full of surprises since the very first moment. We didn't expect our hosts to pick us up at the ferry first of all, nor to drive us on a guided tour of the town, and who could imagine that we two Italians could feel really "at home" in a remote island in such a remote area like Alaska? We have been cuddled, and felt so much sincere kindness from you. We hope to be like you in our future, with a strong willingness to travel and meet new people. Grazie!!!
Rafaella and Simone--Rome, Italy

We have found Kodiak and its smiling people---infectious. So many, as you two, embrace this country as stewards--how beautiful. Thank you for a stellar introduction. Once is not enough.
John and Jacque--Minnesota

An absolutely delightful stay!! Your advice on places to eat and sightseeing was invaluable. The breakfasts were fabulous and the view is gorgeous. However, I think the best part was sitting at the breakfast table and getting to know you and the history of Kodiak. I think we could sit there all day just looking out the window!
Jan and Herb--California
Thank you for your wonderful hospitality, great breakfast and inspiring conversation. Channel View B&B gave us not only a view of the channel but of the people and nature on Kodiak Island. We plan to come back!!

Sally and Joe~Florida

Wow--what a beautiful island you live on. Thank you for sharing your home, history and wisdom with us. Oh,, and the food....Your hospitality is so nice to experience. I felt well-cared for.
Kathy and Ed~Oregon
We have loved every minute we have spent in your beautiful home and amazing island. Our time here will always be cherished as a wonderful memory. You both are such interesting and loving people. Than you for all the tips and ideas about things to see and do. Jeff and Connie-California
We could not have made a better decision on where to stay while in Kodiak. You have welcomed us into your home as if we were family. Thank you just doesn't seem adequate but know that you made our trip special and added that special touch.
Zero and Jean ~ Clinton, Utah
We could not have chosen a better place! Your hospitality and wonderful breakfast and beautiful home made our trip to the Emerald Island unforgettable. We appreciate your directions on where to drive, what to look for and where to eat. Especially enjoyed hearing about your heritage here and your adventures around the world.
George and Patricia ~ Sperry, OK.
Thank you for sharing your lovely home and your beautiful island. The view from your windows is just unforgettable. The advice on salmon fishing was perfect! We hope to visit you again.
Dennis and Anne ~ New Iberia, LA.
Thanks to your outstanding hospitality, Kodiak is a place we will never forget of our honeymoon adventure in Alaska. Please let us know if you ever come to visit Israel.
Stav and Oded ~ Jerusalem, Israel
Thank you so much for making us feel right at home in your beautiful house. Your hospitality has been truly extraordinaire, and you have made our stay here in Kodiak unforgettable.
Malene and Thomas ~ Denmark
You both have made our trip to Kodiak the best ever. We can't thank you enough for all that you have done for us and for showing us the "real" Kodiak. you both are the best.
John and Michelle--Port Orange, FLA.

Thanks for sharing your incredible home! The apartment was the perfect refuge as our entrance "back into the world" after our kayaking trip. The breakfast was gourmet and really delicious--and the location perfect for walking into town and Near Island.
Amy and Buzz--San Diego

Thank you for a wonderful stay in Kodiak. Your home and location are terrific. We really appreciated your thoughtfulness and care in suggesting ideas for us to see and do.........In summary, you are extraordinary hosts and we are grateful.
Linda and Peter--St. Louis, MO.

Thank you for making us feel so much at home in your lovely home. It was almost like we had known you for years. Sitting at your breakfast table having the omelet from Chef Ron or your fantastic Smoked Salmon Quiche while looking out at the channel was such a treat. Myrl and Sally--Colorado
A Channel View B & B
1010 Stellar Way
Kodiak, AK 99615
907-486-2470